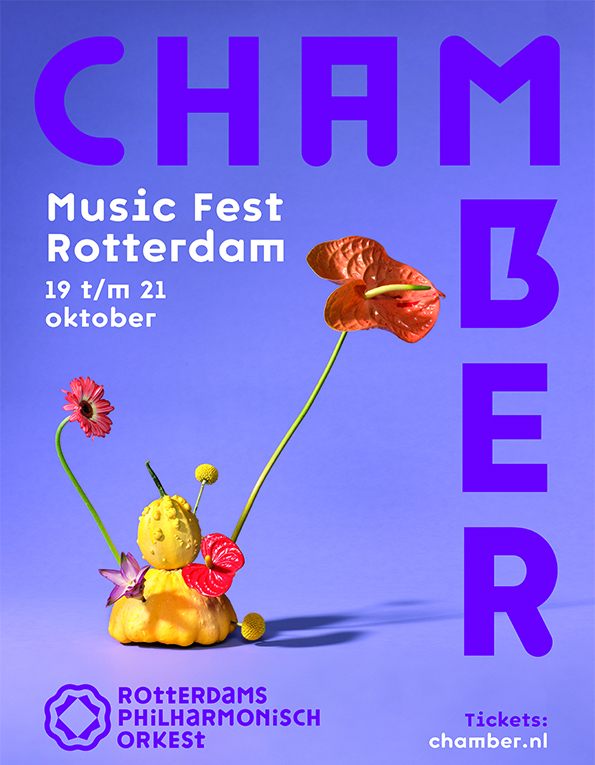 New international ChambeR Music Festival at De Rotterdam
From Friday 19 to Sunday October 21 2018, the city of Rotterdam houses ChambeR, the new international chamber music festival of the Rotterdam Philharmonic Orchestra. ChambeR is the intimacy of music in a small occupation, combined with the great architectural wealth of the city. Meet the musicians of the orchestra in the Arminius Church, in the Halvemaanpassage of the Timmerhuis, the Schielandshuis or the 31st floor of De Rotterdam.
Live music from the highest concert hall in the city.
During the three-day festival, the RPhO musicians leave their home base in De Doelen and seek a unique connection with the city of Rotterdam and its inhabitants. For example, the Arminius Church with its clear acoustics and intimate atmosphere is the ideal place for chamber music in the broadest sense. Here you can hear the music of Mozart and Schubert under the direction of Roman Spitzer (viola player). In the Timmerhuis, where the atrium is the stage for city musicians for a weekend, Laurens Otto (horn player) plays with other blowers from the Rotterdam Philharmonic Orchestra and pianist Ana Sánchez Doneert. The Schielandshuis used to be the city palace where Napoleon and Tsar Alexander I stayed. In ChambeR, the coffee convert with Haydn, Mozart and Beethoven is under management of David Fernandez Alonso (horn player). Quite unique is the temporary highest concert hall in the city, one hundred meters above the street level of Rotterdam. At 7 o'clock in the morning there will be a live meeting with Andre Heuvelman (trumpet player) and yoga and breakfast. The children are also thought. In the Timmerhuis there will be a children's performance Droevigeluidje on Sunday morning.
Meet the musicians
The small-scale nature of the festival brings the music and musicians closer together. Musicians get the freedom and trust in their own story with music to hear the city. Andre Heuvelman, creative director of ChambeR says: "Where musicians are often anonymous in large orchestras, the visitor to ChambeR meets the person behind the instrument up close."
Spectacular opening
ChambeR will be festively opened on Friday 19 October with no less than fourteen musicians and four top soloists. In the Timmerhuis, the energetic ensemble Banda, a small version of the RPhO, seeks out the boundaries of chamber music in a festive way. Hadewijch Hofland (violinist) with Jazz trumpet player Eric Vloeimans closes the festival on sunday evening.
ChambeR music fest Rotterdam is sponsored by: Fonds 21, Prins Bernhard Cultuurfonds, Sena performers, Rotterdam Festivals, Zabawas, Stichting Bevordering van Volkskracht, Pianissimo, Van den Berch van Heemstede Foundation, Aerarium Sanctius. Ticket sales for ChambeR have now started. Tickets are available via www.chamber.nl and via telephone number T. (010) 217 17 07.